Let's start with the basics. What is Manage mode? Manage mode is the first mode that ACDSee Photo Studio opens to upon launch. It is the main browsing and managing interface, chocked full of organizational tools for finding and sorting and moving and all the rest of it.
As you browse your files, ACDSee is adding them to its database in order to increase the browsing speed and store file information to assist with organizing, searching, filtering, etc. This process is called cataloging, and, unlike many other similar applications, you do not need to waste your time executing the cataloging process. Note that ACDSee does not store copies of your photos, so extra space is not taken up.
It's made up of three main panes:
The Folders pane, on the left, displays the content on your computer, which you can use to navigate through and find what you're looking for. It also displays removable drives, including iOS devices and shared drives.
The File List pane, in the middle, displays the contents of whatever folder you have selected in the Folders pane. You can select multiple folders at once and see their amassed content in the File List pane.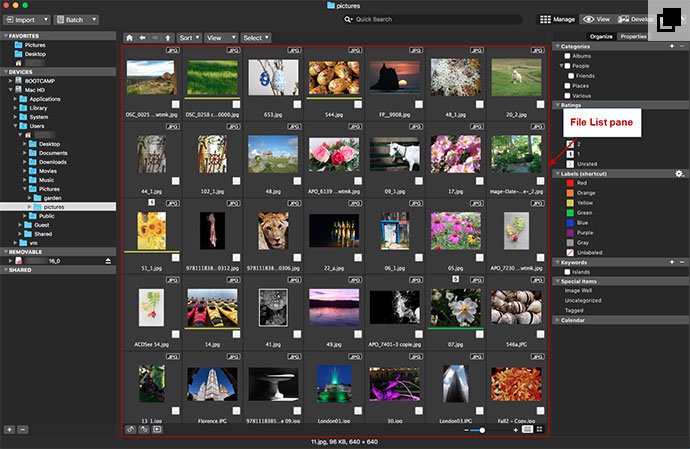 It will also display the results of searches and images that fit certain criteria, such as images with a rating of 5.
The Organize pane, on the right, provides you with tools to rate, label, keyword, categorize, and find your photos based on date.  You can also manage your categories and keywords in this pane.
It also shares real estate with the Properties pane, which you can access via tab at the top of the pane. The Properties pane is for viewing the EXIF and IPTC information of the selected photo, as well as adding your own.
At the top of the File List pane, you will see right and left arrows that you can use to navigate through your browsing history, and an up arrow for navigating up the folder tree, as well as the Sort, View, and Select drop-down menus.

Use the Sort menu to order images in the File List pane by their file properties, such as their size, date, rating, or dimensions. You can also rearrange the order of your files by dragging and dropping in the File List pane to create a "custom sort".
Use the View menu to toggle between viewing your images in the File List pane as thumbnails or in a list.
Use the Select menu to quickly select large groups of images for mass actions, such as selecting all tagged images so that you can move them, etc.
Above the Folders pane, you will find the Import and Batch drop-down menus.
The Batch menu gives you access to actions you can apply to multiple images at once. You can also use batch tools to perform multiple actions to a single image at once. When you have selected an item from the menu, the Batch Workflow dialog box will open where you can customize the options for that action. In the dialog box, simply drag items from the left menu to the main area.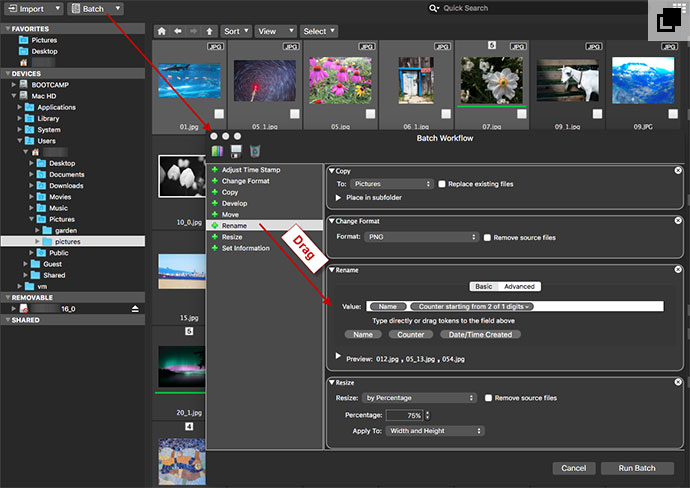 The Import menu will allow you to import photos and videos directly off a connected device. To be crystal clear though, you do not actually need to import these files into ACDSee Photo Studio unless you choose to. ACDSee reads the photos directly off your device, so there is no need to move them into the application, so to speak. So why have an import function? If you want to perform some actions en masse that you know you're going to need to do anyways while they're being copied from your device, such as renaming or applying a batch preset, using import may be more efficient.
While Manage mode provides many more tools, this covers the main areas without getting too detailed and overwhelming. I hope you have found this Manage mode orientation helpful. Happy exploring!
Tags: MAC | LESSONS