The Dos and Don'ts of Professional Music Festival Photography

:

 

An 

Interview with Nicole De Khors 
Welcome to the second part of our blog! For this blog, we will be focusing on the dos and don'ts of professional photography in a festival setting. We were lucky enough to have the chance to interview Nicole De Khors, one of our previous spotlight photographers, and an amazing festival photographer. She was nice enough to take time out of her busy schedule to give us her insight on what it takes to be a music festival photographer and what she has learned being in this industry. This blog is to help professional photographers who are moving into festival photography, as well as amateur photographers aspiring to be professional. We will be covering topics such as how does a photographer get into this line of work, what are the best accessories to bring to a festival, how to plan your day at a festival, and much more! Now let's dive in! 
Don't forget to enter out Photographer Spotlight Contest, just like Nicole did a few years ago. You could be our next photographer spotlight! Submission closes on April 25, 2019. Good luck!   
Nicole is a festival photographer based out of Toronto. She got her start in nightlife photography when she was in college. After about two years of being in that industry, she had the opportunity to photograph her first music festival, Block Party. Since then her career has exploded. She has photographed artists such as The Chainsmokers', Tiesto, Skrillex, ZEDD, Major Lazer, Flume, Imagine Dragons, Odesza, Steve Aoki, Martin Garrix, and many more. Nicole has been a professional photographer for about 5 years, with 4 of those years focusing on festival photography. Nicole focuses on festival photography from March to September and will shoot other concerts and events in-between these times. Nicole has had the opportunity to experience many different festivals, artists, and venues. She has an abundance of advice that she can give to amateur photographers looking to go into this industry.  
Photo: Nicole De Khors, Venue: Buku Music and Arts Festival 2018.
Going into the 

I

ndustry

 
When heading into music photography and shooting festivals, there are many avenues that a photographer can go down. Nicole explained to us the avenues that she's gone down: media photography, working for the festival, and working for an artist. She explains the differences and opportunities that these avenues can bring.  
Media 

P

hotography 

 
Photo by: Nicole De Khors Artist: Matt Shultz, Lead Singer of Cage the Elephant Venue: WayHome 2017.
Media photography is shooting for a specific publication, such as a blog or magazine. Nicole started her career by doing media photography. She reached out to the blog Toronto Rave Community, and they wanted images of Electric Elements so, they gave her a media pass to photograph it. Through that, Nicole was able to network with many other photographers and people in the industry, giving her more opportunity to shoot other festivals and concerts. Nicole also works with Aesthetic Magazine where she gets to shoot an array of artists and events. Media photography is a good way for amateur photographers to start in this industry as it can create many opportunities. Nicole met a photographer there who ended up getting her media passes to other festivals, and her career took off.  
Media photography is a fast-paced environment. Photographers may only know a few days in advance if they've received approval to photograph a show.  With media photography, it is likely you'll only be able to photograph the artists for the first 3 songs. Doing this, you need to be strategic. Nicole told us about the clump: her advice is to be as far from the clump as possible. Everyone who is clumped together is trying to get the same shot of the artist. If you are away from it, you'll get the shot that no one else is getting. It also gives you some breathing room as you're not squished in and bumping into other photographers—potentially ruining their shot.  
Festival 

W

ork

 
Photo by: Nicole De Khors Venue: Ever After Music Festival 2018.
After a summer of being a media photographer working for blogs Nicole met Tobias Wang a photographer who helped her launch her festival photography career. Working for a festival is very different than working for a specific media outlet. There are many benefits when working for a festival. One major benefit is that you have somewhere to store your stuff. Festival photographers usually have access to a greenroom where they can put their lenses, computers, backpacks, etc. A second benefit is that you have a better chance of being able to photograph the festival as a whole, not just specific artists. You have the opportunity to photograph the people attending the festival and get shots of the artists and the atmosphere. When working for a festival there is usually a team of photographers working together to make sure that every artist is covered. This also increases the chance that individual photographers will have the opportunity to photograph the artists they would like. And they have the opportunity to photograph new artists that they may not have heard of.  
When shooting a festival there are 3 good practices to follow. These will help you stay organized and be able to make the most of the time you have there.  
Make friends with security and stage managers. It can be very beneficial to photographers as these are the people who will be working around you as you

'

r

e

 taking photos. They can help guide you on where you can/cannot go. It will also make their job easier as you will be someone that they will recognize. 

 

Check out the stage beforehand. If you have the chance

,

 take time to walk around to each stage and see 

the 

environment that you will be going into

.

 

 

Use the festival app. 

T

his will help you stay organized. A second tip Nicole gave us was to screenshot the lineup and make it your lock screen, so you know where to go and when 

for

 the artists you need to cover. 
Artist

–

Specific 

W

ork

 
Photo: Nicole De Khors Artist: Rich The Kid. Venue: Buku Music and Arts Festival 2018.
Doing artist–specific work can be a great opportunity for networking. For amateur photographers, it is a good idea to contact up-and-coming artists and offer to exclusively photograph them. Amateur photographers need to do this in a timely manner.  Close enough to the event to where the artist will be beginning to plan for it. Try for about a month out. Doing artist–specific work will be very different than festival team work, as you are only going to be focusing on one artist. Building these connections can be very beneficial for the future.  
How to 

O

rganize 

L

eading up to 

t

he 

F

estival

 
Day of- Festivals are usually a few days, so it is good to organize each day. Depending on what kind of photography you are doing—media, festival, or individual artists—plan accordingly as your day may be 8-12 hours long.  As mentioned, scope out the festival and stages beforehand, if you can. Work smart and hard! Don't be afraid to take photos. Nicole said she takes around 3000 photos per day at a festival. If you multiply that by 3 days (an average length festival), that's about 9000 photos! Don't forget to take care of yourself! Festivals are long days; be prepared for them. Take breaks when you need them, wear a hat if you're outside, and drink lots of water. 
Month- If you are wanting to photograph a specific festival, it is best to watch out for when each festival's media accreditation cut off dates are. This is important when working for media outlets. This is usually 2 months prior to the festival. About a month ahead, it is best to keep an eye on it to see if you were approved or not.  
Year- Nicole photographs about 5-7 festivals a year from about March to September. She usually ends her "festival season" with Block Party in September. The very first festival she photographed is now her "season finale" each year. With Nicole becoming more prominent in the music photography industry, she is busier every season. She plans her year around the festivals she wants to photograph. Her advice is to mark off each festival dates you want to photograph in your calendar, making sure you don't schedule other jobs within this time period.  
What to 

B

ring

 
Photo by: Nicole De Khors Artist: REZZ Venue: Buku Music and Arts Festival 2018.
Camera Accessories

 
We asked Nicole about her top accessories and lenses she brings to festivals. Nicole is someone who would rather be with than without. Since festivals are annual events, this makes sense since there is one chance to get the perfect shot.  
Now, how much you can bring depends on the access you have. If you are a photographer for the festival, it is easier to bring more because you likely have a place to store it.  
One accessory Nicole swears by is a camera lens belt, you can clip 3 lenses on the belt. Nicole brings about 6 lenses with her, 3 clipped to her belt, 1 on her camera and 2 stored with her belongings.  If you can't carry that much, the top 2 lenses she recommends are a telephoto lens, 70-200 mm, and a wide-angle lens, 11-15 mm. She recommends these 2 because, with the telephoto you can get close up, focused shots of the artists, and the wide angle will help with getting crowd shots. Other items that Nicole recommends bringing are a monopod and a remote trigger. These are great for crowd shots as they can help you see over everyone and get a great shot of the atmosphere that's going on. It is also a good idea to have extra memory cards and batteries. You don't want to be caught at the headliner with no memory or battery left. The last item Nicole recommends is a camera cover, and if you have nothing else, a plastic bag will work fine. You don't want your camera to be damaged by rain, sand, dust, or whatever comes your way. 
Personal Items

 
As mentioned earlier, there are some important personal items to bring when shooting a festival. Drink water so you keep yourself hydrated. Most, if not all, festivals will have a water bottle fill up station so you can continuously stay hydrated. Since most festivals are outside during the summer, it is best to dress appropriately. So, a second item to bring is a hat; you don't want to get sun stroke, or a sunburn! (Also, bring sunscreen.) A third item that you want to bring especially for a festival photographer is extra socks. You have a long day and if it rains at the beginning of the festival or if someone spills a drink on you, you don't want to be walking around in wet socks all day!  
Basically, you need to dress and prepare for the weather. Nicole told us of a time where she was shooting a music festival on a ski hill during a blizzard. Things she needed to bring for that were snow pants, a toque, a camera cover, gloves, and probably a few more items.  
What to 

K

now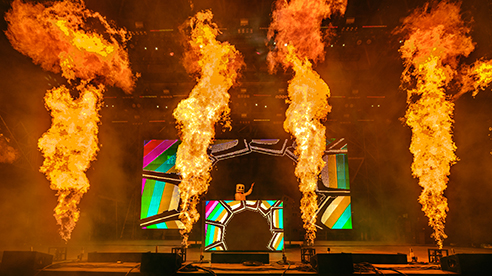 Photo by: Nicole De Khors Artist: Marshmello Venue: WayHome 2017.
What amateurs should know and be aware of when going to festival photography? Nicole gave us her best pieces of advice:  
Always be professional.  


Don't be a fan girl when meeting a

n a

rtist. In your career

,

 you may be working with some amazing artists

.

 

C

ompliment them on their work in a respectful and calm way. Another point she made was to act and dress professionally so wear something comfortable and BLACK. It is very important for photographers to wear black as it will be easier for you to blend in or be photoshopped out if you are in someone else's shot. Nicole told us a story where she got access to a festival last minute and ended up having to shoot the festival in high heels

—

oops!

 

Don't be obnoxious. 


Be aware of your surroundings when you are shooting at a festival. Are other people trying to get a shot and you're standing in front of them? Are you so close you may bump into them? Be aware of what is going on around you. The photographers that you shoot with are essentially your colleagues. You never know if you are going to see them at another event

,

 so it is best to be on good terms with them. It is also a great way to network.

 

Get lots of angles. 


Shoot photos up close, in the middle of a crowd, and at the back. This will give you an abundance of options of photos to choose from

,

 as well 

allow you

 to capture the atmosphere of the festival. 

 

Learn how to edit.  


Nicole says that this can be the key when trying to develop your own look! It will also help you understand your settings better

,

 as you 

will 

know what you can fix 

in 

post

–

production

. 

 
We hope that you enjoyed our interview with Nicole, and we hope it has answered some of your questions on how to work in this industry. If you want to learn more about Nicole and follow her photography journey, you can check out her website, Facebook, and Instagram. Are you going to be photographing any music festivals this summer and have more questions? Let us know in the comments and we can try our best to answer them!  
Tags: INSPIRATIONS