Halloween may look a little different this year, but that doesn't mean you can't have a spooktacularly good time! Why not have a Halloween photo shoot with your friends or family? Here are some tips and tricks for creating the best Halloween shoot!  
1. Use props as a focal point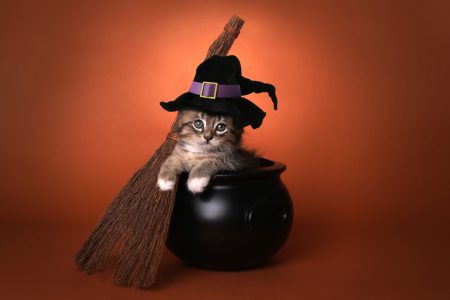 This may be a given, but we don't want you to overlook it! You can set up a Halloween–themed photo booth for your kids, friends, or family.   
Using props as a focal point can bring your photos together and with Halloween, there are so many fun props that you can use to do this! You can use classic Halloween items like pumpkins, or you could use a crystal ball, cauldron, etc. Creating a focal point and using the rest of the subjects to highlight that point in the image can create some eye-catching photos that will be a surefire hit!   
2. Fill the frame 
Halloween is a time where your creativity can shine! Fill your frame, get close to the details, and give your photo the dramatic effect it rightfully deserves. You worked hard on your costume and you should show off all the details, hard work, and thought that you put into it. If you have a creepy costume this could be a very spooky photo shoot. Or if you're a makeup artist and want to showcase your more creative and dramatic looks this approach would be perfect! 
3. Use silhouettes 
Silhouettes can be used in so many creative ways around Halloween and can give your photos a spooky feel! Your silhouettes could be a witch on a broom, a ghost, or even a prince and a princess. There is so much room to get creative with these ideas. You don't even need to have a full costume for these ideas as you are not seeing any detail, just the outline.   
4. Use interesting l
ocations 
 Do you have any forests, historical buildings, abandoned areas, or industrial areas around you? Take advantage of them and create some stunning photos. There is so much that you can do in your surrounding area that is very inexpensive! Even a large field can give you a blank canvas to use however you feel! Spooky or intriguing locations can bring your photos to the next level.   
5. Go wild with e
diting 
With Halloween photos, you have so much opportunity to play around with fun edits! For your average photo, you may not use all of our amazing editing features, but with events like Halloween, you can use a combination of editing tools to create some crazy effects. You can add in more interesting layers, use special effects, vignette, dodge and burn, and more! One feature that may be interesting to use would be our Color Wheel feature found in ACDSee Photo Studio Ultimate and Professional 2021. You can select specific colors and zone in on them. This could create very eerie photos if you have everything in black and white and then one subject in color. Want to try it for yourself? Start a free download of ACDSee Photo Studio Ultimate 2021 here. You can also take your edits to the extreme. Usually, photographers do not want to over-edit their photos but Halloween gives you the opportunity to be more dramatic and extreme while editing.   
 6.
 Change the angle 
Give your subject a more interesting or eye-catching angle. Are you doing a superhero photoshoot? Position yourself lower than the subject so it looks larger, heroic, and powerful. Are you doing a creepy photoshoot? You can try and frame the photo behind branches or leaves so it looks like you are looking in on something.   
7. Use lighting to your advantage 
Lighting can drastically change the look of your photo. The less lighting in your photo, the scarier it can look. The more lighting or even an overexposed photo can look enchanting. A photo taken in the golden hour can give your photo a romantic or a softer feel. Look into lighting and use it to your advantage.   
We hope that you enjoyed these Halloween tips and tricks and we wish you a spooky and fun Halloween! 
Tags: PC | INSPIRATIONS