We are so excited that ACDSee Photo Studio 2021 products are finally here! There are so many features we can't wait for you to try. We hemmed and hawed and had the difficult task of picking just 6 of our favorite features we cannot wait for you to see!  
Before we get into the features, we wanted to mention a few performance updates.  
Our new Photo Studio 2021 products have up to 100% faster start up performance, up to 50% faster mode switching, and up to 100% faster performance when working with keywords and categories. As well as that, you will see up to 20% faster RAW decoding, up to 40x faster database maintenance loading, and improved HEIC decoding.  
Now let's jump right into our favorite features!  
1. 
Col
or Wheel
/Tone Wheels
The Color Wheel and Tone Wheels are brand new to ACDSee and we don't know how we lived without them. These wheels will help photographers adjust their colors and tones with precision to give their images the exact adjustments needed. 
With the Color Wheel, you can increase or decrease the span of the wheel to capture the exact color or colors that you want to focus on when editing your images. This gives photographers the ability to easily edit one color or a specific set of colors. The adjustment options give you the ability to increase or decrease the brightness without having to worry about affecting other colors in your image.  
You can pull the selected segment of the wheel outward to only capture highly saturated colors, or towards the center for the opposite. With this new feature you can add up to 10 Color Wheels in 1 image to perfectly change each element in your image. The Color Wheel will also work with pixel targeting and brush controls to further refine your image.  
 2. 
Tone Wheels
Tone Wheels are very similar to the Color Wheel. The Tone Wheel focuses on highlights, midtones, and shadows. With the Tone Wheels you have more control over saturation. Tone Wheels can work alongside pixel targeting and brush controls for further refinement.  
3. 
Batch Resize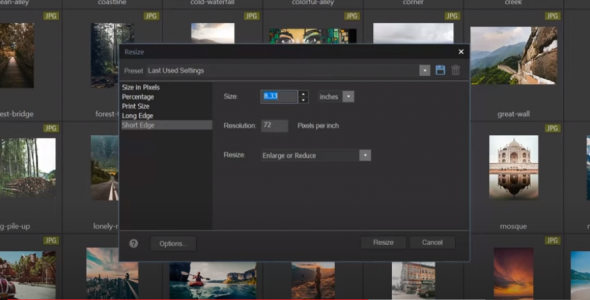 Batch Resize is a very helpful tool for photographers. Like Batch Rename, you can make changes and apply them to a batch of images, cutting your editing time in half. For Batch Resize, you can create a resize preset based on different criteria: 
Pixels

 

Percentage

 

Print size

 

Long edge

 

Short edge

 
This gives the photographer the ability to resize an image however they feel is best for them. This feature is perfect for portrait photographers who need specific dimensions for clients.  
4. 
Watermark/Cropping
 Presets
You can now create presets for cropping and watermarks. Do you have a set of photos that all need the same crop? Maybe your finger or a smudge is in the same place. You can now create a crop preset so you can easily crop dozens of photos from specific pixels or percentage values. You can also choose in which orientation the position should be applied.  
We have also introduced presets for watermarks. This can be a gamechanger for photographers wanting to put their watermark in the same spot for consistency. With the new feature, you have control of the anchor point of your watermark and the number of pixels it is away from the anchor you are choosing.  
5. Import Picasa and Lightroom 
F
ace 
D
ata
This one is short and sweet but very helpful to users! You can now import Picasa and Lightroom Face Data into ACDSee 2021 (in all versions except 32-bit Home). Making the switch to a new program can be difficult and time consuming. We want to make that easier for you. You can access the face data import 2 ways. The first, is by going to Manage | Tools | Database | Catalog Files... The second way is by going to Tools | Face Detection and choosing Import Lightroom or Picasa Face Data.  
6. 
Text 
B
ox/Path Tool
We have made updates to our Text tool this year including introducing the text on a path option. Starting with the text box, you can now change the box from Dynamic to Frame based on how you want to edit and format your text.  
The Path option will let you change the path of the text. This is a game changer as you can now move the path of the text to make different shapes. When you are in the text layer, you can add or remove points to create the ideal path for your text.  
These are our six favorite features in our Photo Studio 2021! We hope that you enjoy them and try them out for yourself! You can start a 30-day free trial of Ultimate 2021 here.  
Tags: PC | LESSONS | INSPORATIONS