With love in the air, we wanted to discuss the features that we're loving in Photo Studio Ultimate 2020! These features will help you edit and organize photos of your loved ones!  
Fac
ial
 Detection & Recognition 
Using the Facial Detection and Recognition feature in Photo Studio Ultimate 2020 helps you find and organize your photos. This helps you locate photos of specific loved ones easily. Facial Detection and Recognition will use AI to find unnamed photos of the same person.  
Vignette

 
A vignette is perfect for framing photos. If you are trying to edit a photo of you and your partner, or just someone you love, this editing feature gives your photo a romantic feeling. With Photo Studio Ultimate 2020 you are able to move the focal point vertically and horizontally to get it exactly where you want to draw the eye. You are also able to have different frames, such as cloud, blur, color, etc. 
Text Layer

 
Text layers are a new feature in Photo Studio Ultimate 2020. This feature makes it easier to place, edit, and alter text. Customize font, size, color, style, justification, opacity, and much more, while layering, blending, and adding effects for the ultimate composites. 
Actions

 – 

B

okeh

 
Photo Studio Ultimate 2020 offers many actions that you can "play" on your photos. One that is perfect for couple photos is a bokeh. As seen above, this filter adds blurry points of light, creating a "rosy" feeling for your photo. To get to this action, go to Tools | ACDSee Actions | Filter | Bokeh.   
Layers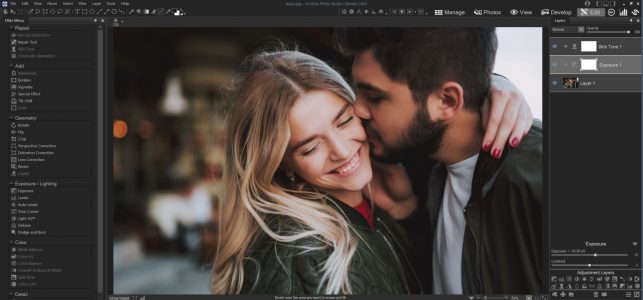 With layered editing, you can really do anything you like! You can add a second file, text (as mentioned above), adjustment layers, etc. This makes it easy to delete a layer if it is no longer needed. You can also mask a layer, combining multiple images into one. Layers give you the option to non-destructively adjust your photos as you can delete or rearrange the layered edits as needed. 
We hope that you also love these features as much as we do. Haven't tried Photo Studio Ultimate 2020? Get a 30-day free trial!  
Tags: PC | INSPIRATIONS